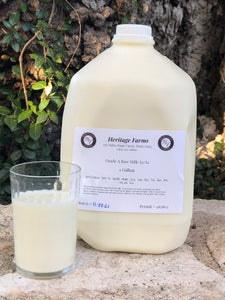 FARM STORE PICK UP: Gallon Raw Milk
PICK UP ON FARM ONLY 1157 Tulley Road, Cuero
1 Gallon of Grade A Raw Milk
A2/A2 from our Jersey Cows
**Any orders placed online will charge an extra $1 per gallon to cover CC fees. Any milk paid by cash, check or Venmo will be $10.00. 
**All orders must be picked up within 24 hours of ordering, unless other arrangements have been made with Crystal.**

There are no refunds for orders not picked up. 
Please call or text (361) 210-0800 before ordering if you are unsure of pickup time or location. FARM STORE WILL BE CLOSED FOR PICKUPS ON SUNDAYS